More Disney Food Allergy Restaurant Reviews
Even more Disney dining with food allergies.
If you would like to share your experience, use the comments section for each review or submit your own review using our contact form. We would love to hear more about your Disney food allergy dining experience so that we can share it with other readers and allow them to make informed choices when they visit Disney.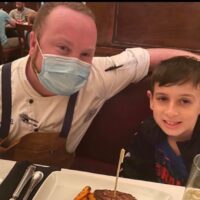 This trip report was provided by Michelle, whose son is allergic to eggs, dairy, peanuts, tree nuts, soy, wheat, fish,…