Mama Melrose's food allergy review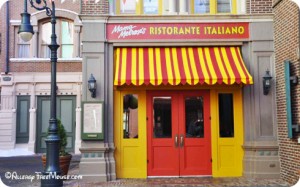 This is my favorite Italian restaurant in all of Disney World. I loved it so much that we ate there twice on our last visit. I had a wonderful vegetarian minestrone soup and a cheese pizza. For my daughter, who has a dairy allergy, Chef Julie prepared a wonderful salad with fresh pear and a tasty dried cherry vinaigrette dressing. She also had the option of having vine-ripened tomatoes with balsamic and basil scented olive oil along with fresh sweet basil leaves. After her salad, she had spaghetti with marinara sauce as her entrée. She loved it! At many other restaurants, pasta marinara is an option, but it's not memorable. Mama Melrose's is now her favorite, too.
Chef Julie and our server, Holly, were so accommodating and listened carefully to our daughter. Chef Julie made her salad with what she liked and, literally, went out of her way for her dessert — she had to go to another restaurant to get Enjoy Life cookies. She even asked what flavor of cookies she wanted. Chef Julie went above and beyond — a true testament to Disney's commitment to food allergies.
We ate here in May, when it was very hot. Mama Melrose's was an oasis of great food, great drinks and cool air conditioning! It was such a wonderful experience. Incidentally, it was also Star Wars Weekends at Disney, so we dined with a few out-of-this-world guests.